What's So Special? Examining the 2022 Mitsubishi SEL Outlander Special Edition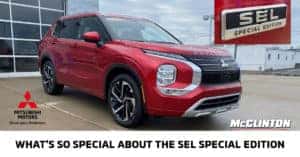 It's a great time to be a Mitsubishi Dealership. We're seeing so much excitement and passion for this brand in 2022. The refreshed Eclipse Cross is a hit, and the new Outlander is bringing so many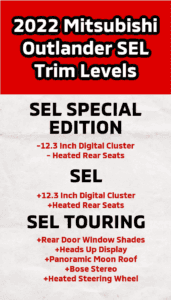 people to Mitsubishi. We just can't keep up with demand. Not only are people buying the Outlander in record numbers, but they're also opting for the high-end models. The SEL and SEL Touring are fan favorites for sure. There's just one problem…the microchip shortage. We know you're all tired of hearing about this shortage. It's been going on for nearly two years, and it's not going away any time soon. Simply, the more features a car has, the more chips it needs. So, vehicles like the SEL and the SEL Touring have a lot of bells and whistles that need chips. Oh, there is also a parts shortage that is causing issues in the automotive industry too. Even parts that don't require chips are hard to get. So, what is a manufacturer to do? Well, if you're Mitsubishi, you go out and make something "Special."
The new Outlander is a big departure from previous generations. It's moved more upscale while still being affordable. It's bringing new buyers into the showroom and they want more features. Since this model was released in April of last year, we've only sold a handful of true ES models. The ES is the entry-level trim. It has 18-inch rims and is still well-equipped. Most people who purchase the ES opt for the ES Convenience package. For only $1,000 more you get the 20-inch rims and Mitsubishi Connect. It's an upgrade that presents great value at a low price. But, even more, people want the SE, the SEL, and the SEL Touring. The SEL is dressed to impress. However, that means it needs a lot of chips. Mitsubishi realized that the demand for the top trim was high, but they had to deal with the chip and parts shortage. So, Mitsubishi introduced the SEL Special Edition. It slots below the SEL and the SEL Touring. It's a new way to get into the top trim. The SEL Special Edition still gets you all of the great features you love while removing some of the items that cause production delays. With the SEL Special Edition, you still get the quilted leather interior, the heated seats, tri-zone climate control, driver's seat memory, and the auto-dimming rearview mirror. The Special Edition removes the 12.3 Inch Full Cluster Display and the Heated rear seats. In total, this saves you about $1,000. Honestly, it doesn't take away much from the vehicle.
The SEL then adds the digital cluster back in as well as the heated seats. Then the SEL Touring gets all the features. This adds the Panoramic Moonroof, the Heated Steering Wheel, the Rear-Window Shades, The Heads-Up Display, and the Bose Stereo.
If you're not in the industry, differentiating between trim levels is tough. Hopefully, this blog can help you decide which trim is best for you. The SEL Special Edition is worth a look. Best of all, no matter which trim level you choose, you get the 5 Year/60,000 Mile Total Car Warranty from Mitsubishi and our 10 Year/1,000,000 Mile Powertrain Warranty. This will provide great peace of mind for years to come. Check out our complete Outlander Inventory here. Have questions? Give us a call at 304-422-6501.