What It's REALLY Like To Own A Mitsubishi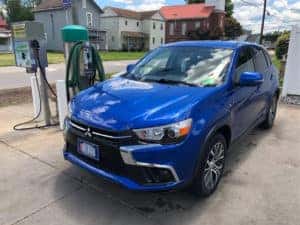 Since 1989 McClinton Auto Group has been a part of the Mitsubishi Family. One thing that sets us apart is that we do not just sell Mitsubishi vehicles, we own them too. Today I want to share my journey with my Mitsubishi over the past two years.
In 2018 I was working for McClinton Mitsubishi part-time as a Marketing Consultant. I was very familiar with the Mitsubishi brand. After all, I was a teenager when The Fast and the Furious was released. Like most people my age, I wanted Paul Walker's green Mitsubishi Eclipse. I have been in love with cars most of my life. In fact, one of my favorite activities is attending car shows. In March of 2018, I attended the Columbus Ohio Car Show with my friend Shawn. We stopped by the Mitsubishi booth. The Mitsubishi rep interviewed us for a video. I explained that I had recently taken a personality test that stated my ideal car was a Mitsubishi Outlander. To my surprise, Mitsubishi ended up using my segment for their YouTube channel. (It has since been removed.) Regardless, I was becoming a big fan of the Mitsubishi brand. You could say the diamonds were aligning.
In November of 2018, I was heading home from my full-time job. I was in a hurry to get home to change for an event that evening. When I was about a mile from my house, my car simply died on me. It was cold, sleeting, and I live in the middle of nowhere. It took the tow truck more than an hour to get to me. When the tow truck driver arrived, he was upset that I had called him out to tow my car. I was not sure if I was supposed to apologize for breaking down or not. He gave me a ride home. I paid $150 to ride a tow truck one mile to my house. This is like the ultimate surge pricing.
The next day I tried replacing the battery in my car. It did not help. Something was wrong with it that I could not fix. It was 13 years old, had 160,000 miles, and was starting to show its age.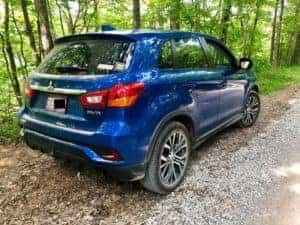 Luckily, my now boss Ginny Bowden sent me a text that day explaining that she could help me get a new car. They had a new Mitsubishi that she knew I would love. I came to the dealership within an hour of the text. I broke one cardinal rule of buying a new car; I did not drive the vehicle first. In fact, I did not even look at it. I just went in, applied for financing, and then waited for my new 2018 Mitsubishi Outlander Sport ES to be delivered. The first time I saw the car, my name was already on the title.
It turns out the Outlander Sport I purchased is an Octane Blue Metallic version. It's the base model ES with front-wheel drive. (To be fully transparent, I was not a full-time employee of the dealership at the time of purchase. This is my personal car. It's not a demo, and the dealership for which I am employed is not making the payments for the car. It's 100% my automobile.)
So, what is it like owning a Mitsubishi for nearly two years and almost 40,000 miles? It has been great! First, you might be thinking that the mileage reading is a typo. It is not. I have put nearly 40,000 miles on my Outlander Sport during the time I have owned it. I bought it new with 87 miles on it. Most of those miles were put on by me. Though we are in Parkersburg, WV, I like to travel. I have been taken my Sport to Tennessee, Pennsylvania, Virginia, North Carolina, and multiple day trips to Ohio. I have had 0 issues with my Mitsubishi during that time. I have only changed my oil during the recommended intervals, I have rotated my tires, and I have changed my transmission fluid and air filter once. Full Disclosure: I changed my transmission fluid before it was recommended simply because I once owned a vehicle that had a transmission failure. I will also be getting new tires before long.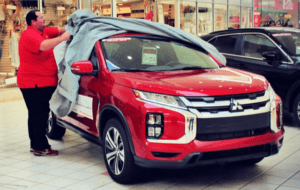 Many people ask if I like my car. No, I love it. I'm 6 foot 4 inches tall and I'm a plus-sized fella. I fit very well in this crossover. I have plenty of headroom and legroom. Road trips are no issue in my Outlander Sport and comfort is great. I also enjoy the cargo space. I take my Outlander Sport shopping and on road trips often. There's plenty of room. Among my favorite features are the standard 18-inch rims. Though my Outlander Sport is an entry-level model, it has gorgeous wheels. Most competitive vehicles have steel wheels with hubcaps on the base models. The paint color is also worth mentioning. I receive compliments all the time on the paint color. The Octane Blue Metallic paint stands out in a crowd. Plus it looks good when I wash it. The only thing I did to modify my Outlander Sport change it's identity. Last year I removed the Outlander Sport emblem from the back and added the Canadian Market RVR badge instead. I just had to be different.
Many people ask me if I would buy my car again. The answer is yes and no. I do love the Outlander Sport. If I were playing with house money, I would not buy the ES trim again with Front Wheel Drive. Instead, I would get an SE with All-Wheel-Control. I live in a rural area and the AWC would come in handy when we get snow. Plus, the SE has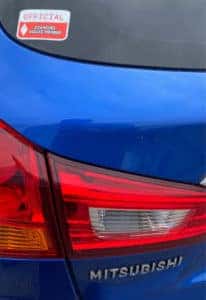 heated seats and Apple Car Play. Those are two features I really enjoy. Plus, mine is Octane Blue Metallic. I would rather have Pearl White.
People also want to know if I plan on keeping my Outlander Sport much longer. I do not. While there is nothing wrong with my car, I have seen what the new Outlander may look like, and I am a big fan! I will trade my Outlander Sport in on that within the next year.
Now that I'm the marketing director for McClinton Mitsubishi, things have come full circle. Last November I was able to unveil the new 2020 Mitsubishi Outlander Sport at our local Mall, and in January of this year, I was asked to represent Mitsubishi at the West Virginia International Auto Show. I highly recommend a new or Certified Pre-Owned Mitsubishi to all my friends and family members. In fact, I made a special group for all of my fellow Mitsubishi owners called the Diamond Squad. They get special stickers.  I am also not alone in Mitsubishi ownership here. Many of my coworkers own and drive them too. We invite you to stop and try them for yourself.
Check out our complete inventory here.