The Subdivision from Hell: How A Wrong Turn Made Me Use The Mitsubishi Outlander's Drive Modes
The new 2022 Mitsubishi Outlander has been one of the biggest hits for the Mitsubishi brand in decades. It's a great vehicle and has style for days. Every day we have people stopping by the lot to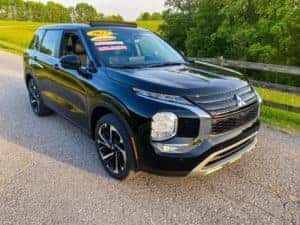 check out this all-new crossover. I was lucky enough to drive an ES trim from Charleston West Virginia to Parkersburg shortly after the vehicle hit dealer lots. This trip was just shy of 100 miles and took about an hour total. The Outlander handled great on the highway. Almost immediately I noticed a difference over the previous generation. Now, we've had the Outlander for about a month. I realized yesterday that all of my time with the Outlander was on the highway and around town. I did not stray too far from the "smooth" roads of Parkersburg. While the roads around town are full of potholes, I was eager to see how the Outlander handled in a more rural setting. How would it perform on a bumpy road? Does it corner well? I needed to answer these questions. So, I grabbed an Outlander SE and headed home.
I live in a rural part of Wood County, West Virginia. Technically I live in Parkersburg, but I am far from city limits. It's so rural Doordash won't come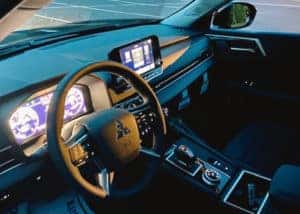 to my house. It's just like being in the film "Winter's Bone." Hyperbolic statements aside, the community in which I live would be a good test for the new Outlander. There are steep inclines, winding roads, and a diverse terrain I wouldn't want to traverse in just any car. This would be a great chance to test out the drive modes and get some cool pics for our social media channels.
As I headed home I took a detour from my normal route. I ventured down a narrow road close to my home. It was one of those single-lane country roads the protagonist always lives on in Hallmark Movies. It was complete with horse farms and a dog kennel. The road was in desperate need of maintenance. Luckily the Outlander's new platform soaked up the bumps with ease. This is in stark contrast to the old platform which would often feel uneasy over big bumps.
About three miles into my journey, I found a place to turn around. I decided it was time to head home to Corra Estates. I wanted to go back out as the sun was setting to get some pics of the new Outlander when the sun was setting. As I was turning around I noticed that I hadn't seen or passed any cars so far on my journey. As soon as I headed home I started to encounter an abundance of cars. I didn't want to damage this brand new crossover. As this was a single-lane road, I made sure to get over as far as I could for oncoming traffic. When I did this, something helpful occurred. I was getting close to objects on the right side of the car. This caused the parking sensors to activate. In turn, this activated the 360-degree camera. I was able to toggle through the cameras and see how close I was to objects. The camera on the passenger side mirror was able to show me where my front right tire was. This aided my maneuvering by showing me how far I could get off the road without entering a ditch. It was a bit of a lifesaver.

After a few hours of relaxing at my house, I was ready to take the Outlander back out to get some cool after-dark pictures. This specific Outlander came equipped with the Dynamic Shield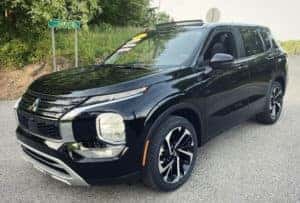 Illumination. I just had to get a shot of this neat feature in the darkness. I decided to travel to a sub-division not far from my house. To enter this subdivision you must go down a steep grade that is surrounded by a lot of trees. It would be the perfect setting for my nighttime setting. While driving to this area I thought it would be best for me to enter through the back entrance and come up the other side to get my pics. It turns out the subdivision does not make a circle. Apparently, I entered the part of the community that does not get HOA fees distributed to them for road maintenance. What I experienced was almost as bad as some of the most extreme rural areas I've ever been to. I had to navigate a steep grade with multiple potholes and loose gravel. I chose to embrace this opportunity to try out the Outlander's new drive modes. Since I was on loose gravel, I switched the setting to "gravel" for the descent into the neglected subdivision. Looking back I wish I would have used the hill descent control button, but I completely forgot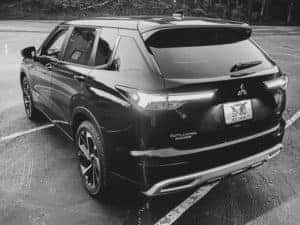 about it. When I finally got off the steep grade, I quickly realized there was no way around to the other side of the community. I had to exit the way I entered. I was quickly worried that I would not be able to make it up the incline. Going down gravity was on my side. Going up, it would be against me. So, I left the Outlander in "gravel" mode and climbed the hill. Even with uneven terrain and loose gravel, the Outlander never broke traction. I was also impressed by the articulation of the suspension. It handled the uneven road with ease.
Sadly, I didn't get the photos I wanted in the subdivision. I quickly left due to a somewhat rational fear of road collapse. Though I didn't get the photos I wanted I was able to put the Outlander through its paces. I came away even more impressed by this vehicle. If the Outlander can survive "The Subdivision from Hell," it can surely handle your daily commute.
The Outlander is on sale now. While the chip shortage is impacting our supply, we do have a few models in stock. Stop by today to test drive one for yourself. You'll also learn all about The McClinton Million. That's out 10 Year/1,000,000 Mile Powertrain Warranty. It comes standard on every new Mitsubishi we sell. It's peace of mind for the road ahead.