The Mitsubishi Mirage Black Edition: Big Style and Efficiency
Gas prices are high and you're looking for a fuel-efficient car. But, you don't want to sacrifice style and features. What are you to do? Economical cars are always boring, right? Listen, I'm cynical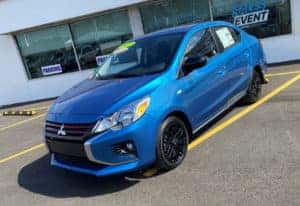 more often than not. As someone who has owned a boring economy car, I agree that they are often bland. However, Mitsubishi has come to save us with the Mitsubishi Mirage G4 Black Edition. It offers style and efficiency without breaking the bank.
Crossovers and trucks are all the rage. They have been for a while and they're not going anywhere any time soon. Some manufacturers are completely abandoning traditional cars and economy/compact cars. Mitsubishi realizes there's still a market for affordable, efficient small cars. The Mirage, which has been offered by Mitsubishi in the United States on and off since the 90s, is available as a hatchback and a sedan. Both were updated for the 2021 model year to feature bold new styling. So, even the entry-level trim, the ES, looks great. For those who want features and to stand apart from the crowd, Mitsubishi offers both versions of the Mirage in a trim called the Black Edition.
The Black Edition has loads of features. Let's first look at the exterior styling. When you opt for the Mirage or Mirage G4 Black Edition, you get black 15-inch wheels, Automatic Headlights, Black Lug Nuts, Black Roof Spoiler (trunk spoiler on the G4), Black Side Mirrors, Red Grille Accents. Inside you'll receive a Leather-Wrapped steering wheel. Every new Mirage comes with standard Forward Collision Mitigation, Curtain Air-Bags, and Active Stability Control.
So, we know the Black Edition has great style and features. Is it still efficient? Absolutely! The Mirage gets up to 41 MPG Highway, and the G4 gets up to 37 MPG Highway. That means you can drive from our dealership on 7th Street in Parkersburg, WV to the Easton Shopping Center In Columbus, OH on 6 gallons of fuel. With all that savings you can shop all day and not break the bank.

Ok, this Black Edition Mirage and G4 are good-looking and efficient, but are they a good investment? Of course! You'll receive a 5 Year/60,000 Mile Total Car Warranty and a 10 Year/100,000 Mile Powertrain Warranty from Mitsubishi. In addition, when you purchase your new 2022 Mitsubishi Mirage Black Edition from McClinton Mitsubishi, you'll receive a 10 Year/1,000,000 Mile Limited Powertrain Warranty. Yes, that's a Million-Mile Warranty. We call it the McClinton Million, and it's available on every new Mitsubishi we sell, and most of our preowned cars. Learn more about it here.
Hopefully, we see some relief from these high gas prices soon. Until then, when you're considering a Fuel-Efficient ride, take a look at the 2022 Mirage and Mirage G4. Click here to see our current inventory and call us at 304-422-6501 to schedule an appointment.