CatTrak: Catalytic Converter Theft Prevention System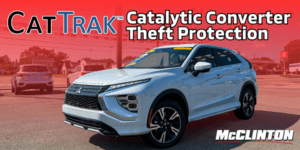 Since 1915 we've established relationships with thousands of customers. We know a vehicle is one of the most important decisions you'll make. For some of our customers, it's the most expensive item they'll ever purchase. Regardless if you're spending $10,000 on your first car or $100,000 on your dream ride, you need to protect your investment. Let CatTrak help you.
What is CatTrak?
CatTrak is an easy-to-use permanent label & metal etching product.
• Permanent high-temperature silver mylar combination Warning Label-Stencils are applied to each catalytic converter, engraving a permanent PIN & Toll-Free reporting number
. • The supplied dauber bottle is used to apply the CatTrak Catalytic Converter Engraving Solution to the stencil surface, permanently etching the unique catalytic converter PIN & Toll-Free reporting number into the catalytic converter.
• The supplied door jamb sticker, with PIN and Toll-Free Phone Number, is applied to the door jamb.
• The supplied Warning Stickers are placed on the vehicle windows.
• APIN Stencil Label is applied to the deal jacket or the PIN is entered into the DMS, according to the stores process.
• Using the Capital Processing Systems, Inc. (CPS) proprietary online reporting tool, the dealership reports the PIN and VIN to CPS. This process is best performed in the back office but can also be done in the Finance and Insurance or other Department. Once the PIN and VIN are entered in the reporting module, an email will be sent to the user's email address with an attached Certificate of Catalytic Converter Etching, which can be inserted into the deal jacket and provided to the vehicle purchaser upon sale.
• Under its Strategic Partner Agreement with the National Insurance Crime Bureau (NICB), CPS registers the PIN and VIN making it available to all law enforcement nationwide.
Catalytic Converters are being stolen at an ALARMING RATE.
Thefts BY YEAR:
2020: 14,433
2021: 50,000
2022: 64,000
And the numbers KEEP RISING!
Why are Catalytic Converters so attractive to thieves?
They are made with some VERY valuable materials:
Rhodium: $14,430 per ounce
Palladium: $1,950 per ounce
Platinum: $942 per ounce
We are happy to inform you that CatTrak will be installed on every vehicle we sell in hopes of helping you protect your investment. When you purchase a new or pre-owned vehicle from Chevrolet, we'll include a Million Dollar Identify Theft Protection Plan with DotTrak.
For more information, or if you have any questions, give us a call at (304)422-5601