8 Features That Convinced Me To Trade My Old Outlander Sport For A New One
Three years ago I purchased a new 2018 Mitsubishi Outlander Sport ES. I loved that vehicle. In three short years, I put 60,000 miles on it and had no major issues. Recently while getting my oil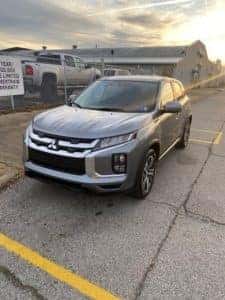 changed in the McClinton Mitsubishi Service Center I made a "big boy" decision. I decided to trade my 2018 Outlander Sport in for a new 2021 model. Why did I trade in my three-year-old car that had no major issues? That journey is a long one. Come along while I explain everything I love about my new Sport.
Those Headlights
In 2020 the Outlander Sport received a major refresh from Mitsubishi. While many of the interior components remained the same, the major changes occurred on the exterior. The biggest change, and the one that made me want to make the upgrade, involves the headlights. When the Outlander Sport got refreshed, the headlights became LED. Both the low beam lights and the high beam lights are LED. They're much brighter than before. As you can tell by my annual mileage exceeding 20,000, I spend a lot of time on the road, especially at night. Plus, living in rural West Virginia, I encounter a lot of four-legged obstacles on my way home. These headlights mean a safer commute for me. Not to be critical of the old Outlander Sport, but the headlights were not as bright as I would like.
In addition to the brighter lights, the 2021 Outlander Sport received Automatic High Beams on all trims. I was hesitant to use this feature at first. Last night I drove an hour at night, and the Automatic High Beams worked like a gem. I was incredibly impressed by how well this feature performed. Every time I encountered another motorist, the headlights automatically dimmed. I can't wait to use this feature more.
Do You Like Apples?
While most of the 2020 refresh for the Outlander Sport occurred outside, one major change that also made me want to upgrade my vehicle involves the infotainment screen. The old Outlander
Sport came equipped with a 7-inch infotainment screen. Now there is an 8-inch screen available. This screen is standard on every trim above the ES. So, the LE, SE, and GT all have this new screen. I know an extra inch does not seem like a big deal, but it makes a big difference. This is especially true when the backup camera is engaged.
Not only is the screen bigger, but it also includes Apple CarPlay and Android Auto. Before the 2020 Refresh, the Outlander Sport had this as an option too. However, it was not included on my 2018 model. Just like before, Apple Car Play and Android Auto are included on trim levels above the ES. This means the LE, SE, and GT have this option. The S and the ES do not have this feature.
I knew I wanted Apple CarPlay, but I had no idea how much I would use this feature. Once integrated into the car, Apple CarPlay will project select apps onto your screen. One of the major apps that makes a huge difference is the Apple Maps app. This essentially puts navigation in your car. I travel a lot and this feature is a big win for me. Before I'd use my phone for navigation and would take my eyes off the road to look at the screen. While the directions did play through the Bluetooth connection in my old Outlander Sport, it's so nice to see the map on my screen. It's incredibly safe.
In addition to the map app, I often use Spotify while traveling. It's great for music and podcasts. One CarPlay app I use way more often than I expected involves messages. As I am a millennial I text far more often than I call. So, I get a lot of text messages. Last night while on my hour-long commute from Athens, OH I received a ton of text messages. I decided to make use of the messaging feature. It was so handy. My boss Ginny is traveling for work, and we were catching up on the drive. I was able to use the text app to reply to her without using my phone. Plus, the messaging app reads your incoming text messages. It's safe and convenient. I will never own another car without Apple CarPlay and Android Auto.
Rear Cross-Traffic Alert
This next feature is one I didn't think I'd love and I was incredibly wrong. The SE and GT Outlander Sport come equipped with Rear Cross Traffic Alert. This feature alerts you if there are obstacles on either side of your car. If the system detects an object on the right or left, it will sound an alarm.
I like to park far away from everyone at the shopping center. I like to protect my investment by avoiding other motorists and people who like to open their doors with abandon. Though I am cautious it never fails that I'll be surrounded by towering trucks when I return to my car. This was the case at the Target Parking lot recently. After purchasing an absurd amount of holiday candy I journeyed back to my auto to find two trucks lifted so high I swear they were trying to climb to heaven. Needless to say, my visibility was obstructed. I jumped into my Outlander Sport, shifted to reverse, and glanced at my rearview mirror. Just as I took my foot off the brake, I heard an alarm. I didn't see the rogue Subaru speeding through the aisle, but my Outlander Sport did. I waited for the car to pass and then slowly backed out of the spot. Rear Cross-Traffic Alert is an amazing safety feature.
Those heated seats are fire!
Heated seats have been an option on the Outlander Sport for a while. They're not new, they weren't significantly changed for this new model year, but they are great. I've always wanted a car with heated seats. The seats in the Outlander Sport perform well. Both the bottom of the seat and the part that touches your back is heated. The heated seats also have a high and low setting. Winter is approaching the Mid-Ohio Valley and I can't wait to use these seats when the weather drops below freezing.
Forward Collision Mitigation
For 2021 every new Outlander Sport is equipped with Automatic High Beams, Lane Departure Warning, and Forward Collision Mitigation. It's imperative to note that the Forward Collision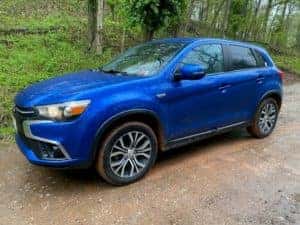 Mitigation also has Pedestrian Detection. When Forward Collision Mitigation is engaged, the Outlander Sport will alert you when you get too close to an object or a person, and it will automatically brake the vehicle for you if an accident is imminent. I encounter a lot of careless pedestrians in my daily commute, so this is a great safety enhancement. I'm glad Mitsubishi is including it on every new Mitsubishi sold starting with the 2021 Model Year.
FAST-Key Entry System
As I mentioned before I owned a 2018 Outlander Sport ES. It was a big upgrade from my previous car. It's a great vehicle, and at the time, it was the entry-level Outlander Sport. While it had a lot of wonderful standard features, the FAST-Key Entry was not included. On my 2021 SE, it is included and I love it. It's incredibly convenient to leave my key fob in my pocket and simply unlock my car by hitting a button on the door. You can do this on the front driver side door and the front passenger side door in addition to the rear hatch. I've used this feature a lot since purchasing my car.
Push-button Start
I know people will read this and say that Push Button Start has been around on most vehicles for over a decade. I get it. However, this is the first car I've owned with this feature. Like the FAST-Key System, it's so nice to leave my keys in my pocket. Plus I have a lot of extra keys for work and my house. It's comforting to know that my ignition won't get stripped from my keys.
Power Folding Mirrors
As I mentioned before, I like to protect my car. And I like to shop. So this means my car is often in dangerous parking lots. The power-folding mirrors are included on the SE and GT trims. When engaged, your side mirrors will automatically fold in when you lock the car. This makes it easier for pedestrians to navigate past your car in narrow parking lots. You can also use this feature without locking your car by pushing a button on the driver's side armrest. This is great for narrow passages and automatic car washes.
Though it's only been a short period, I love my new Outlander Sport. I am so glad I stayed with the Mitsubishi Brand. I can't wait to see all the places I go in this new car. If you haven't considered Mitsubishi, please stop by today to test drive one today.