5 Reasons To Service Your Mitsubishi at McClinton's
One of the best things about owning a Mitsubishi is how easy they are to maintain. I purchased my Outlander Sport just over two years ago. I have done a lot of driving. Currently, my Mitsubishi and I have traveled 45,000 miles together. In that time, I have only had to perform routine maintenance. I take the Outlander Sport in for an oil change every 7,000 miles, I get my tires rotated, and I had the transmission fluid changed at 30,000 miles. Recently I had a new air filter installed and I replaced my tires. Thankfully, I work where I service my vehicle, so I can walk down to the service garage and ask questions five days a week. Most of you don't work with me, though. So, you're likely to have some questions about servicing your car. You may have heard that taking your car to the dealership for service is the worst thing you can do. Today we're going to explain why that way of thinking is wrong, and we're going to see what it's like to service your Mitsubishi with us.
1. Drive what we drive.
There was a time I didn't work here, and I didn't know a lot about Mitsubishi as a whole. Then, when I started consulting with McClinton Mitsubishi back in 2018, I was told that many of the people who worked in our service department owned Mitsubishi vehicles. I found that interesting. I also felt compelled to ask why. The response made a lot of sense. I was told that people who know how to service cars don't want to work on their cars when they're not on the clock. That made a lot of sense to me, but I couldn't help but wonder if this was just a sales pitch. After working here for nearly three years I can give firsthand experience. Yes, a lot of people in our service department own Mitsubishi vehicles. The ones that don't often need a truck or just found something that Mitsubishi does not make. We wouldn't drive Mitsubishi vehicles if they weren't reliable. Plus, Mitsubishi ranked sixth overall in the 2020 JD Power Initial Quality Ranking. Overall, owning a Mitsubishi often means you're not going to see us a whole lot.
2. It's not expensive.
I hate hearing a person say "the dealer is the most expensive place to get your car serviced." I take that personally. I can't speak for every Mitsubishi dealer in the country, but at McClinton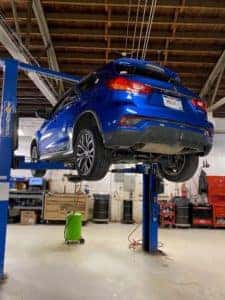 Mitsubishi, we often price our routine services below what you'll find at those big box stores and independent garages. For instance, you'll rarely find a full synthetic oil change more affordable than ours. Keep in mind, big chains and independent shops don't use genuine Mitsubishi parts or oil. While you might be able to get an oil change while you shop for groceries at some of those stores,  you know they're not using the best quality products for your Mitsubishi. Plus, our service technicians are specially trained to work on your vehicle. On a personal note, I would not feel comfortable taking something as advanced as a PHEV to a glorified grocery store for service.
3. It's more convenient than you think.
While we are not attached to a grocery store, you're going to find a lot of conveniences when you bring your car to us. Did you know that you can just pull your car into our service garage to drop it off? This is especially helpful when it's raining, snowing, or cold. You can just pull up, honk your horn, and we'll let you in. Then you can walk right into our lobby to start the drop off process. If you want to drop your car off early in the morning, we'll gladly give you a ride to work or back to your home. Those big-box stores and independent garages won't do that.
Are you the type of person who remembers things randomly? I will remember a task for work as I'm getting ready for bed. This usually means I must make a note or try to remember it until the next day. It doesn't often work. With our online scheduling tool, you can plan your next visit 24/7 from the convenience of your phone or computer. Just click here to schedule an oil change or any routine service. Best of all our prices are listed so you will not be surprised when it comes time to pay. You can even opt-in for our shuttle service with just a few clicks.
4. We can fix the major issues.
When you bring your car in for service, we hope it's just for routine maintenance. However, if you need help with a major issue, we have the people and the knowledge to help. Our technicians know how to address more complicated issues, and our team can detect issues in advance which will save you time and money in the long run. Our team also has the latest tools and diagnostics equipment. In other words, if something major happens, we're prepared to fix your vehicle and get you back on the road quickly and safely. Thankfully, every new Mitsubishi comes with a 5 Year/60,000 Mile Total Car Warranty and a 10 Year/100,000 Mile Limited Powertrain Warranty. When you purchase a new Mitsubishi from McClinton Mitsubishi, we cover your powertrain for up to 10 Years or 1,000,000 Miles. Our service team can also perform all of your warranty and recall work. Plus we document everything we do for your records.
5. Parts Matter.
Our Service-Team is top-notch. They're also supported by our talented Parts Department. The individuals who make up our Parts Department take pride in carrying Genuine Mitsubishi Parts
and Accessories. We stock most of the major components your Mitsubishi needs. Everything from wipers to wheels. Further, the parts we stock are recommended by Mitsubishi Motors North America, and will not void your warranty. You may save some money by going to a major parts store, but cheaper parts often mean cheaper quality. You deserve the best for your vehicle.
We've been serving the Mid-Ohio Valley since 1915 and we've been a part of the Mitsubishi family since 1989. We know how to fix cars and we know how to treat people well. Regardless if you're coming to us for routine maintenance or an intricate repair, you are in good hands when you come to McClinton Mitsubishi. Click here to schedule your next service appointment with us.