10 Features Everyone Is Overlooking On The New Outlander
If you've been on social media at all in the past few weeks you've likely seen information about the all-new 2022 Mitsubishi Outlander. A bunch of journalists have been covering the new vehicle, several dealerships have received theirs, and Mitsubishi even announced the reveal on Amazon. Everyone loves the way this new crossover looks. They go on and on about the styling. Some have called this a "game-changer." It's the most important vehicle Mitsubishi has launched in recent history. However, like the author of this blog, the new Outlander is more than just a pretty face. It has substance too. Most people are distracted by the awesome looks of this vehicle. This new Outlander has depth. All these people are missing some unique features that set the Outlander apart and show how much it's grown. 
Headlight Washers
Let's start with a major flex. This new Outlander comes equipped with headlight washers! I will buy one based on that alone. A lot of high-end luxury cars have these washers. I nearly lost my mind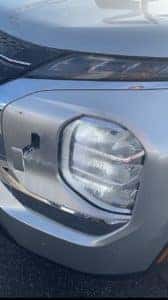 when I saw these. Before I got to see the Outlander in person, I suspected that the vehicle has this feature. I asked the official Mitsubishi Motors Twitter account to find out and they didn't respond. Hmmm. I had to wait until we got one to find out.
You may be wondering why this is necessary. Well, the headlights are set lower in the front facias. You may have noticed that sexy new front end. Well, now that the headlights are lower, they are likely to have more salt on them in the wintertime. Especially if you live in West Virginia like me. Nobody wants to get out of their car in the winter to clean their headlights. With the new Outlander, you don't have to. Just flip a switch on the stalk in you're all set.
40/20/40 Split 2nd-row seat
I know the way the middle row splits won't drive a lot of other people crazy, but it's a selling point for me. Most cars with a folding rear seat are split 60/40. This is the way my car does it. In other words, your two seats fold down together while one seat folds down independently. It works well for most people, but the 40/20/40 split is so much more effective, especially if you're carrying long items and people. The ability to fold the middle seat separate from the other two seats in the 2nd row means you can still carry 4 people and skis for instance. Or, you can carry four people and the most expensive resource in the world…a piece of lumber. Once again, the middle row split may not seem important, but it makes the Outlander more versatile. That's important in this crowded market. 
Amber Turn Signals
You likely don't pay too much attention to your turn signals. If you're a BMW driver you might even be shocked to know your vehicle even has them. But, there are a few select people who love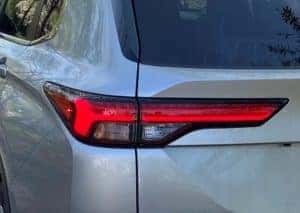 amber turn signals. I happen to one of them. My 2018 Outlander Sport has them. A lot of cars manufactured outside of the US have them too. Most cars sold here don't have separate turn signals on the rear of the car. Rather, their taillights/brake lights act as a turn signal too. I feel amber turn signals are safer and more effective, and thus safer. You don't give up a brake light and this will make your vehicle more visible at night. Plus they look a lot better. I was so glad to see them on the new Outlander. They give the conservative rear end more character. 
Down Hill Assist 
Snow can a real pain here in Parkersburg. Most of West Virginia gets rough weather in the winter. I especially have issues when I'm traveling in the snow. I live in an area that has a lot of steep inclines surrounded by trees. When I was younger, I lost my traction on a snow-covered hill. Well, the tire slide brought me down. Well, I've been afraid of drivin' cause I crashed my car around noon. Stevie Nicks' lyrics aside, winter driving can be treacherous if your vehicle isn't capable. That is why I'm so happy that the Outlander has these new drive modes for a variety of on-road and off-road conditions. One mode is for snow. It optimizes the Outlander's Super All-Wheel Control for maximum traction in slippery conditions. Also, when you opt for Super All-Wheel-Control, you get downhill assist. Once engaged, this feature will slowly navigate your Outlander down a steep grade. You don't have to push the gas or the brake. The driver simply steers the vehicle. I wish I would have had this feature when I totaled my car 15 years ago.
Bro, do you even Liftmaster? 
This next cool feature won't apply to me, but it's still awesome. Like the new Eclipse Cross, the new Outlander has some cool tech features built-in. The Eclipse Cross was the first vehicle ever to have a garage door opener built into the infotainment center. Mitsubishi teamed up with Liftmaster to offer this convenient new feature. With Liftmaster's myQ Connected Garage, you can now control your garage door easier than ever. The convenience goes mobile as myQ will be a part of Mitsubishi Connect on your Smartphone too. While I don't have a
Bose Stereo System 
I spend a lot of time in my car. In two years I've accumulated nearly 52,000 miles on my Outlander Sport. I'm normally alone in my car. So, a good sound system is paramount. When I'm listening to Nicole Byer discuss the all too relatable trials and tribulations of dating during a pandemic, I need the audio of her podcast to be crystal clear. In the new Outlander, that sound can come from an upgraded Bose Stereo system. Further, it's an advanced Bose sound system, with 10 speakers and a digital subwoofer – in 9 different spots around the vehicle. So, when I'm jamming out to Cardi B or Loretta Lynn, the music will be crisp.
Towing
We know most people buy a crossover because they are adaptable. Regardless if you're taking the fam to the pumpkin patch in your finest flannel or picking up some shiplap from The Home Depot, your Outlander needs to fill a lot of roles. That's why towing is important in this segment. No, you're not going to tow a 30-foot horse trailer with your Outlander. But you might need to tow a wave runner to the lake or your ATV to the nearest trail. The Outlander can handle it. The 2022 Outlander's class II towing package includes a tow hitch, wiring harness, ball mount with 2" ball, and protective cover for the 2" receiver. Perfect for a bike rack, cargo basket, or general-purpose trailer. Some wiring or other adaptors may be required depending on the equipment used. Towing capacity is up to 2,000lbs.
The Back Door
Earlier this week I traveled to Charleston to pick up our first 2022 Outlander. When I had some time to look over the vehicle, the first thing I did was check the back doors. I was curious to see how far they open. I don't have kids, I don't want kids, but I know a lot of people who struggle to get their kids in and out of the back seat of compact crossovers. When I saw how far the rear doors opened, I could not wait to tell our dealer principal. She has a 2018 Outlander PHEV and a 19-month-old daughter. Getting her daughter in and out of the back of the PHEV can be a little tricky. I know she's going to love this wider opening. It's also going to make entry into the third row easier.
Accessories 
Sometimes when a new model launches it can take a while for a manufacturer to introduce accessories. That isn't the case with the new Outlander. Mitsubishi has an abundance of accessories for this redesign. The coolest accessory is the illuminated dynamic shield. It's sure to turn heads at night. It gives the new Outlander a unique stance on the road.
Speaking of lighting, you can also order special door lights for your new Outlander. It's called "Door Ground Illumination." When you open the door, the Mitsubishi logo projects onto the ground. While it may not be the most necessary accessory in the world, but it's very cool. We know a lot of people will want to order this unique light.
In addition to those cools lights you can also get a wide range of traditional accessories. Bike carriers, cargo mats, and floor liners will help you make your Outlander more versatile. You can still order an alloy fuel door, just like on the Old Outlander. Bug shields are available now as well as cargo nets. As a certified Mitsubishi dealer for over 30 years, we'll gladly install any accessories you order from the catalog.
Wireless Phone Charger 
Not only does the new Outlander have a place to place your mobile device, but it can also charge it wirelessly. Under the infotainment screen is a slot for your phone. If you have a recent iPhone or Android device, the pad will charge your device as you drive. This will be handy on those long road trips. Plus, with wireless Apply CarPlay and Android Auto, your console area will stay clean and cord-free.
I can't wait to spend more time with the new Outlander. I agree that it's a game-changer. But it's not just because of the way it looks. It's the total package. It will serve a lot of people well and not break your bank. If you want to learn more please feel free to stop by or give us a call today.